---
Mini-skirted Debbie Greenberg's… first-hand, fan's-eye, gossipy chit-chat and fashion notes have tactile authenticity, from resident DJ, Bob Wooler's 'Hi there, all you cave-dwellers,' to bassist Stuart Sutcliffe standing with his back to the audience 'so no one could see how he was playing', and Pete Best ('sultry, fiercely good-looking and oozed sex appeal').

—Andrew Darlington, R2 magazine

---

[Debbie] possesses a wealth of information to which outsiders and even historians have no access. This book is singular in its vast detail.

— Jude Southerland Kessler, Culture Sonar

---

A fab read for any 60s music fan. Richly illustrated with… rare photos, posters and press cuttings… The day Paul McCartney popped in with his new girlfriend, Linda, to show her where the Beatles story began is particularly special.

—Simon Fine, sixtyplusurfers.com
---
As a teenager, Debbie Greenberg was spending far too much time at the Cavern Club in her hometown of Liverpool, England. It was already the most famous music club in the world, where she had been dazzled by the Beatles' debut performance and witnessed their rise to stardom for two years before watching the local heroes leave home.
Then in 1966, after the previous owner declared bankruptcy, her father asked out of the blue if she thought it would be a good idea to take over the club. It was an offer she couldn't refuse. She'd been a Cavern fanatic since it was a jazz club, hardly missing a lunchtime or evening rock session until its closure a few weeks before – amid mass protests by Liverpool youth.
Now she was suddenly part of a new family business, faced with the task of helping to breathe new life into a dilapidated rock 'n' roll shrine and build on the legacy of the legendary Mersey Beat.
This first-hand account of her ten years frequenting and eventually managing the original Cavern Club is the authentic inside story of the Beatles' launch pad, full of triumphs and failures – and surprise celebrity encounters.
Richly illustrated with dozens of photos, posters and press clips.
Debbie Greenberg
Born in 1945 in Liverpool, Debbie Greenberg attended the Morrison School on Greenbank Road and, after passing her eleven-plus, New Heys High School for Girls.
Leaving school at seventeen, she started working with her father, Alf Geoghegan, who ran three butcher's shops. By age 20 she was managing the family business and also working part-time as a fashion model.
Her life changed forever when her father took over the lease of the Cavern Club in 1966 after the previous owner went bankrupt.
Debbie lives with her husband Nigel in Liverpool and partners with him in their 44-year-old business, Solo Security.
---
---
The Andrew Eborn Show on Octopus TV
The Truth About the Cavern Club
View from the Cavern stage
In her most full and frank interview ever, Debbie Greenberg
reveals the hidden history of the Beatles shrine –
and the role of her father, Alf Geoghegan
---
Red Carpet of Hollywood's video of author Debbie
Watch here
---
---
She Owned 'The World's Most Famous Club'
'[Debbie] possesses a wealth of information to which
outsiders and even historians have no access.
This book is singular in its vast detail.'
by Jude Southerland Kessler
Culture Sonar, June 2021
I opened Debbie Greenberg's new book, Cavern Club: The Inside Story, with a hefty dose of skepticism. What could this book possibly tell me that Spencer Leigh's The Cavern: The World's Most Famous Club and Phil Thompson's The Best of Cellars hadn't already covered in great detail? I assumed there was only so much one could say about Liverpool, England's limestone-walled, underground nightclub — the famous "cellar full of noise" that had launched greats such as Gerry and the Pacemakers, the Swinging Blue Jeans, Cilla Black, and of course, The Beatles.
But I was mistaken. You see, Debbie Greenberg's father, Alfred Geoghegan, (and later, Debbie herself) owned and managed the Cavern Club from 1966-1971, and so, she possesses a wealth of information to which outsiders and even historians have no access. This book is singular in its vast detail — including a map and descriptions of the Cavern's myriad rooms…rooms in addition to the main domed vault in which The Beatles performed. Greenberg also supplies new stories that no one but the owner of the club could know: stories about Chuck Berry's arrival in Mathew Street in the pouring rain and Cilla Black's earliest Cavern performances.
Read full review in Culture Sonar
_________________________________________________________
---
Sounds from the Cellar
The latest issue of Vintage Rock magazine celebrates the 60th anniversary
of the Beatles' first gig at Liverpool's Cavern Club, February 9, 1961.
|Author Debbie Greenberg, who was at that first lunchtime show – and at every
one of their 282 Cavern appearances – remembers their electrifying debut.

It's the most famous small venue in the world and was pivotal in the development of the biggest band of all time. Now, 60 years on from The Beatles' debut performance at The Cavern, we trace its role in the band's incredible rise…
by Neil Crossley
You can buy Vintage Rock here
_________________________________________________________
Signed Copies Shipped from Liverpool
Personalized signed copies of Cavern Club: the Inside Story can now be ordered through Beatlesbookstore.com. An original collectible Cavern Club label from 1967 is included free inside the book (while supplies last). You just pay the special UK price of £13.50 (approx. US$18.00) plus shipping. Debbie personally signs each copy and mails from Liverpool.
–
---
Check out the latest print
and radio interviews with
author Debbie Greenberg
---
Live interview with Debbie
on Plastic EP TV
Among a stunned and delighted audience, she was there
for the Beatles debut at Liverpool's Cavern Club
in 1961 before their second trip to Hamburg

---
Join Beta Brothers Lou and Bob
of Garage Bandits
in a podcast interview
with the author
Debbie tells how her dad took over the Cavern Club in 1966
after she'd seen The Beatles over 200 times
– and remembers a surprise visit by Paul in 1968
---
---
Interview with Debbie Greenberg,
Author of Cavern Club: The Inside Story
The April 2020 issue of Ear Candy Mag
has two articles on Liverpool's Cavern Club
By Ronnie
I first talked to Debbie Greenberg when I was doing research for a project on the Cavern Club (a different article in this issue). We reviewed her book, Cavern Club: The Inside Story, in a previous issue of EAR CANDY. It is a fantastic book and I highly recommend it! Debbie graciously agreed to an interview, where we talked about her book, the Cavern and, of course, The Beatles!
EC: I thoroughly enjoyed your book, because it was both entertaining and informative! What made you decide to write a book about the Cavern after all these years?
Debbie Greenberg: I was prompted to write my book because I became aware that rumors were circulating in Liverpool that my dad was responsible for the demise and subsequent demolition of the original Cavern Club. As my dad was no longer around and unable to defend himself, I felt that it was time to set the record straight.
EC: Did you keep a diary in the '60s?
Debbie Greenberg: Sadly, no, I have lost count of the times that I wish I had kept a diary.
EC: It blows my mind to think that you've seen the Beatles 292 times, from their debut at the Cavern in 1961 to their final show in 1963! Surely no American Beatles fan can even come close! You got an inside view as they progressed through various phases: the 5-piece Beatles with Stu on bass; the leather 4-piece Beatles; the introduction of the suits; finally, Ringo Starr joins the band. What are your memories of each of these? Did you prefer one phase over the other? For instance, what do you recall about Stu Sutcliffe? I would just love to hear any memories on these different phases!
Debbie Greenberg: My memories of The Beatles at the Cavern were equally enthralling throughout all of their fashion stages. The music was the main ingredient that excited me but the phase of the black leather outfits and Cuban-heeled boots were particularly memorable. The Beatles were raunchy and oozed sex appeal clad in black leather.
---
The Cavern Club, Liverpool, 1966: Alf Geoghegan takes command
Translation of an article in Pop Thing, a Spanish online magazine based in Vitoria-Gasteiz, Álava, specializing in mid- to late 20th Century Western popular culture
March 24, 2017
"As the Mersey Sound was slowly fading in 1965/6, it seemed that The Cavern Club was losing its relevance after closing its doors for a few months, due to the bankruptcy of Ray McFall in February 1966. But that was not the case – the club reopened in July 1966 and was world news again with Harold Wilson, the UK's Prime Minister, officiating at the ceremony."
"Nevertheless, this phase of The Cavern's history does not arouse much interest among scholars. For example, Spencer Leigh, who has written three books on the subject, only touches lightly on the years 1966-69, devoting less than thirty pages to the period. It is hardly fair that no one has taken more interest in the time when the charismatic Alf Geoghegan took command. And when his daughter Debbie came to the rescue!"
Read the full translation here
Read the original Pop Thing article here (in Spanish)
---
A Cellarful of Noise
Julie Burns, Vintage Rock
Issue 27
As The Cavern geared up for its 60th anniversary, Julie Burns heard about its heyday
from ex-Cavern owner and author Debbie Greenberg
"The Beatles performed an amazing total of 292 times at the Cavern – and every Wednesday night, and thrice-weekly lunchtimes, Debbie was out front. "Overnight The Beatles had a following of devoted fans, and I was one of them. The amazing thing about the Cavern was that The Beatles and all the groups were so accessible. We were literally inches away as they played."
View a PDF of the article here
---
World Famous Cavern Club Turns 60
Dominic Utton, The Express
January 14, 2017
IT IS the most famous cellar in the world. A cramped, sweaty "cesspit" that incubated a musical revolution – and for a decade was the undisputed hotbed of rock 'n' roll.
---
60 Years of The Cavern
This SNS Online audio interview, recorded at the Cavern Club in Liverpool to help celebrate 60 years of the Mersey Beat, features Debbie and Nigel Greenburg. Also broadcast on BBC World Service.
---
Cavern Club owner's daughter reveals one of the first photos Linda McCartney took of Paul just weeks after they got together
Isobel Frodsham, Daily Mail
November 22, 2016
Linda, who had been dating Paul for a few months, took photos of Debbie with Paul, then they all went down to the cellar so she could see where the Beatles began.
---
Debbie shares inside story of club The Beatles made famous
Simon Yaffe, Jewish Telegraph
November 18, 2016
There are a few well-known Jewish links to The Beatles. The most obvious being Brian Epstein, the Fab Four's manager at the height of their stardom, and Linda McCartney (nee Eastman), the haimishe girl from New York who captured Paul's heart.
But perhaps less conspicuous are the Jewish strands which connect The Beatles and Liverpool's world-famous Cavern Club.
Click to see an image of the original article
---
The Beatles, Cilla, Spike Milligan and me: My dad owned the Cavern Club
Stefan Kyriazis, The Express
November 12, 2016
Debbie Greenberg's dad Alf owned Liverpool's iconic Cavern club and she tells us intimate tales of growing up with Paul McCartney, Ringo, Cilla and Spike Milligan.
---
'It Was A Cess Pit, But We Loved It' – A Former Owner Remembers Liverpool's Cavern Club
Mark Beaumont, NME
October 31, 2016
"We've all dreamt of being in The Cavern Club with The Beatles twisting, shouting and mop-wobbling the place into a Cilla-quivering frenzy, but only the more imaginative business studies student has ever dreamed of what it might be like to run the club after they'd graduated to Shea Stadium. Until now. A new book, Cavern Club: The Inside Story, tells the story of Debbie Greenberg, a Beatles-era Cavern regular whose family bought the legendary club in 1966, nursed it into a second golden era and who wants to set the record straight on why the original Cavern was demolished in 1973."
---
Liverpool's original Cavern Club could have been saved, claims a new book
Catherine Jones, Liverpool Echo
October 14, 2016
"Liverpool's original Cavern Club could have been saved according to a new book penned by former owner Debbie Greenberg.
Cavern Club: The Inside Story gives readers an insight into the legendary venue after it was reopened in 1966 – when Debbie's dad, the late Alf Geoghegan, took over the helm.
The family re-built the Mathew Street club into a popular nightspot, as well as a tourist destination, before selling it on four years later.
---
Inapub magazine names Cavern Club book of the month
Inapub Issue 60
November 2016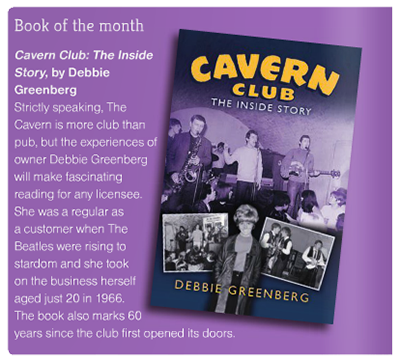 | | |
| --- | --- |
| Title | Cavern Club: The Inside Story |
| ISBN-13 | 978-0-9863770-4-4 |
| Size | Trade paperback, 6 x 9 in (15.24 x 22.86 cm) |
| List Prices | $19.95; UK £17.25; EU €19.75 |
| Published | October 16, 2016 |
| Pages | 186 |
| Features | Photos, posters, press clips |
| BISAC | Rock Band Biographies, Rock Music, The Beatles |