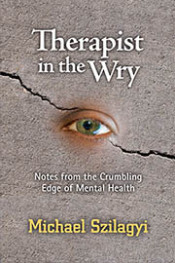 A delightful peek into the mental health underworld! Michael Szilagyi mixes dark humor with an endearing compassion for humanity in his breakout publication. A must-read for clinicians, students, and anyone seeking to understand the inner workings of the mental health field. — Dr. Jennifer M. Durham, D. Min., LPCC-S, CTT, CTS
While psychotherapy is not recognized as a particularly amusing career choice, Therapist in the Wry delivers a hilarious blow-by-blow account of daily life as a counselor in a community mental health facility in Middle America.
After surviving his colorful half-Hungarian family and facing personal tragedies, gross injustices and many minor mishaps, Michael Szilagyi discovered he suffered from attention deficit disorder and other assorted ailments. But his most serious life-long affliction is dark humor syndrome, activated by almost any therapeutic incident, family occasion or domestic ordeal.
Pigeonholed as an underachiever through his school years, he proceeded to ace college and qualify as a licensed clinical counselor. Not being entirely normal himself, he had an intuitive feel for what his clients must be experiencing. From behind his nom de plume Szilagyi takes a fond swipe at everything – vacuous team leaders, incompetent administrators, eccentric co-workers, exotic family members, even his pet cats. The people he identifies most readily with are usually his patients – the isolated and lonely, the weird and the lovable, sometimes the violent and felonious.
By turns deadly serious and gently mocking, at times totally outraged, often laughing uncontrollably, the author brings home the absurd reality of working on the front line of America's crisis-ridden mental health system.
Reviews
Anyone who has worked in non-profit mental health will love this book. The descriptions are vivid and at times wrenching. Szilagyi's words paint images that I, as a therapist, have seen over and over. Those who have worked with the downtrodden or hope-lacking will find affirmation and hope throughout these pages. The end point – at which one arrives via light humor, gallows humor, Szilagyi's vulnerability, and notes on the history of a profession – is a poignant reminder that all helpers are there to help those who come seeking help and that such connections are sacred and meaning-making for all involved. —Yvette R. Tolbert, MFA, MA, PCC-S, ATR-BC, NCC
As a mental health professional, I found reading Therapist in the Wry thoroughly affirming. Szilagyi's writing communicates the experience of honoring those we serve while working in a challenging mental health system. Humor lightens the read as Szilagyi relays his own family stories, historical pieces of the profession, and aspects of this career choice, including education, research and funding concerns. His humanity is present as he describes the suffering and joy his clients experience in their healing process. I recommend this book for therapists, interns and anyone interested in the mental health field. It is both a realistic and hopeful read. — Heidi Larew, PCC-S, LICDC-CS, ACS, NCC, ATCS
Szilagy's sardonic portrayal of a flailing community mental health agency is sure to ring true for those who have ever been on the payroll of non-profit organizations. Szilagy uses a pleasant mix of dark humor and insightful observations in an attempt to make sense of the absurdities that are part of his everyday life as a counselor. But through all of the frustrations and downright scary stories, Szilagy is able to bring to light the real reason anyone would choose to work in the mental health field – and that this is a belief that we can be a positive influence on people who need it the most. — Michelle Culley, LPC