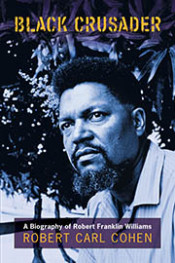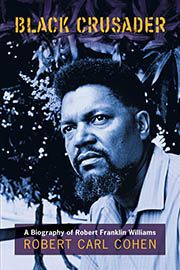 Black Crusader is the story of how a young man from a small North Carolina town who dreamed of becoming a poet was transformed into an archenemy of the US power structure. At school and in college, in the US Army and Marines and in his home town in the 1950s, Robert Franklin Williams witnessed the scourge of segregation, exploitation, beatings and even murder.
He soon decided to apply his combat training, intelligence, organizational skills and fearlessness to take a stand against the race hatred he saw around him. Williams became the first black liberation militant to advocate armed self-defense. But in 1961 an explosion of government-supported racist violence – and a trumped-up kidnapping charge – forced him to flee the country and seek refuge and support among America's Cold War adversaries, in Cuba, the People's Republic of China and finally in newly independent Tanzania.
Included in these pages are historic events such as Williams' talks with Fidel Castro and Mao Zedong, details of the infighting in the Cuban Communist Party, his meeting with Che Guevara, and his impressions of life in China during the first years of the Cultural Revolution.
This biography is based on five weeks of interviews by filmmaker and author Robert Carl Cohen conducted in Dar-es-Salaam in the tumultuous summer of 1968. Detailing the first 44 years of Williams' life, as told in his own words, it is the story of an enigmatic and charismatic natural-born leader who was pursued in vain for almost a decade by the FBI and CIA.
Williams' talent for leadership extended to book writing, newspaper editing and managing Radio Free Dixie from exile. Though his message was totally suppressed by the US mainstream media, he was a friend of revolutionary leaders, inspired a generation of civil rights activists in the US, and was admired by millions around the world.
Black Crusader concludes with the bizarre circumstances of Williams' return to the US in 1969, after which all state and federal charges against him were quietly dropped without explanation. This was followed by the mysterious suppression by mainstream publishers of the first two versions of this book, now republished in full in this new illustrated edition.