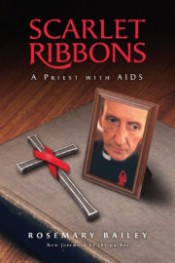 A Priest with AIDS
Honourable, impassioned and tender
— Sara Maitland
A quiet triumph of the spirit —
Library Journal
A soul-searching testimony —
The Observer
Rosemary Bailey gives an unsentimental yet heartbreaking account of her brother's life, from his strict upbringing by a fundamentalist father, through ordination as an Anglican priest, then gay liberation, to his diagnosis with AIDS and a long debilitating illness that he never allowed to defeat him.
Rosemary captures the sad drama that consumes Simon Bailey, rector of the South Yorkshire village of Dinnington, as he breaks the news of his homosexuality and his illness, first to friends, then to close parishioners, and finally to his family, the church authorities and the media.
While slowly succumbing to AIDS, the Rev. Bailey continues to hold services in the parish church, while his parishioners care for him around the clock through his final months.
The story was the subject of the BBC Everyman documentary, Simon's Cross.
Bibliographic Data:
Title: Scarlet Ribbons: A Priest with AIDS
Author: Rosemary Bailey
Publisher: Jorvik Press
ISBN: 978-0-9863770-3-7
Publication Date: July 29, 2017
B&W 6 x 9 in. (229 x 152 mm); perfect-bound with matte lamination
224 pages; 21 B&W illustrations
Retail price: US: $19.95; UK: £15.95; EU: €19.50
Rosemary Bailey
Rosemary Bailey was born in Halifax, Yorkshire, and remained deeply attached to her native region until her death in February 2019. This was her first book, the story of her brother, the Anglican priest Simon Bailey, and the remarkable support he received from his Yorkshire mining village parish.
She wrote three further memoirs about her life in the French Pyrenees, another region she has grown to know and love. The best-selling Life in a Postcard (Bantam Books 2002) described living in a mountain village, the restoration of a ruined monastery and the history of the monks.
The Man who Married a Mountain (Bantam Books 2005) followed the romantic 19th century mountaineer Sir Henry Russell-Killough in his quest for the sublime. 
Love and War in the Pyrenees (Weidenfeld & Nicolson 2008) is an investigation of the Second World War, combining her own travels with contemporary interviews, documents and letters, described by the Jewish Chronicle as "a quiet triumph of historical reconstruction." 
Bailey was married to the biographer Barry Miles and had one son. 
The UK magazine Church Times ran an excerpt from Scarlet Ribbons: A Priest with AIDS to mark World AIDS Day, December 1.
Read "Dying to Live" in Church Times
---
By Rosemary Bailey
The Telegraph, London, 27 July 2017
My brother was the 'priest with Aids' – here's how he turned a whole community around
We learned that my brother, Rev Simon Bailey, an Anglican priest, was HIV Positive in 1992. It was seven years after he was diagnosed. He had told no-one until then, but he was becoming increasingly ill. Our father, a Baptist minister, had died earlier that year and he told my mother first, just before she was due to visit me in London and so she had the task of telling me. (And we could support each other. Simon, the experienced priest, thought like that.) We'd had our suspicions – my sister, a nurse, had checked out his medications, but it was still devastating news. We sat and wept for hours.
---
Video link to BBC TV's Look North studio in Leeds, with Rosemary Bailey talking about her brother's death from AIDS while rector of Dinnington in South Yorkshire.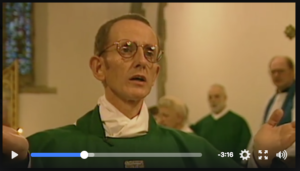 ---
Independent, London
How A Yorkshire Mining community supported their gay reverend with AIDS in the 1990s
The sister of Rev Simon Bailey recalls how his flock chose love over hate, and supported him during the height of the Aids crisis.
Read more
---
The Mirror, London
Incredible story of priest who died of AIDs and the tough pit village who provided him comfort
The Rev Simon Bailey could have faced a backlash of hostility but the people of Dinnington took him into their hearts and cared for him on his darkest days
Read more
---
Yorkshire Post, Leeds UK
Life of gay Sheffield priest who died from AIDS chronicled as moving book is re-published

The story of a gay Sheffield priest who died from AIDS is to be republished to mark the 50th anniversary of the decriminalising of homosexuality.
---
Reviews of the first edition of Scarlet Ribbons
"A priest can be anything, greedy, uncaring – and heterosexual. But if you are homosexual, you can be the most beautiful person in the world, but not a priest…" Rosemary Bailey has written a tender and soul-searching testimony of the progress and implications of her brother's illness and of the love his ministry inspired in his parishioners ... His struggle to accept the AIDS virus ravaging his body is remarkable for its courage and determination, as is his insistence that priests are flawed human beings like everybody else, and merely act as conduits between God and the world. Simon Bailey lived two years longer than his doctors expected him to, finished two books and continued to lead his community through the cycle of the Christian year until a few days before his death in 1995, at the age of 40. His pragmatic intelligence and impressive sense of responsibility led him to take a stubborn stand against the hierarchy in matters such as the ordination of women and the issue of sexuality and the priesthood, for he came to believe that his homosexuality contributed positively to his vocation. His sister describes with wonderment the traditional rituals he reintroduced in his services, and her documenting of the practical life of a church is fascinating. Above all, the dignity she discovers both in Simon and in all those who loved and supported him is inspiring. — Emily Ormond, The Observer
---
The book, unpretentious and geared to simplicity, has earmarks of a classic work in its genre… It is unabashedly honest – stripped to essentials, sparing no one's feelings, refusing to yield to sentimentality – and at the same time, extraordinarily sensitive and tender. — Lambda Book Report
---
Successfully integrating her voices of loving sister and dispassionate reporter, the author… tells the life story of her brother, a gay priest in the Church of England. Drawing from his journals and sermons, from interviews with parishioners, other family members, and friends, the author traces the rocky path her brother walked from his youthful awareness of sexual difference, to his… years of ministry to Dinnington parish, and his final physical decline under the tender watch and care of his devoted parishioners. Much of the drama… unfolds in the step-by-step process by which the priest admits friends, close parishioners, family, church hierarchy, and the press, in that order, to the knowledge of his illness, a sequence that moves the author frankly to confess how "immensely sad" it is that she, her siblings, and parents were not among the first to be trusted with the news. That unself-justifying candor is part of what makes Bailey the perfect memorialist of her brother… The ambiguities in Simon's life that the author preserves in her memorial of him will deepen and extend the impression he leaves. — Kirkus
---
This profound story tells of the life, and complicated death, of Simon Bailey, the Anglican priest in a Yorkshire mining village. After struggling to accept his identity as a gay male and becoming sexually active, Simon was faced with a foreshortened life when, in the early 1980s, he found out that he had AIDS. He told no one until he fell ill. In response, his friends, family, and parishioners rallied around him with care and support. This beautifully written book by Simon's sister, a journalist, candidly takes things that may be unfamiliar, including gay sexuality, AIDS, Anglican spirituality, and English church life, and makes them familiar and human. This quiet story of profound faith and courage, in which the cross Simon bore led not only to death but to a quiet triumph of the spirit, is recommended for all public libraries. — Library Journal