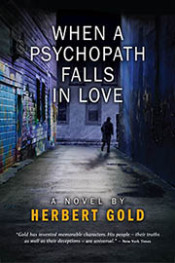 A novel
Herbert Gold's new novel is a funny, sad romp through the San Francisco he has staked out as his primal territory, filled with flimflam artists, lost summers of love and, most of all, fathers on the run, looking for a little bit of mercy and poetic meaning to their lives. — Jerome Charyn, Author
The intriguing new story from prizewinning author Herbert Gold, his twentieth novel in more than six decades, takes us on a journey of lost souls seeking attachment, revenge and redemption at the edge of San Francisco Bay.
When impoverished court translator Dan Kasdan lets lawyer and con artist Ferd Conway suck him into a shady property deal in Haiti, he's unprepared for the life-changing complications that follow. First, an unknown daughter has just turned up at Dan's door in the Tenderloin, nineteen years after a forgotten encounter in the Summer of Love. She, her half-employed husband and their disabled baby son need his care, attention and cash. All this just as Dan's swollen prostate is confronting him with his own mortality.
It's bad enough when his cohort manipulates Dan into a love affair with Petal, a young woman his daughter's age. But when Ferd starts pursuing Dan's daughter as lover and would-be father figure, Ferd's sleazy disloyalty changes Dan forever.
If a psychopath really can fall in love, it had better not be with the wrong person. That could lead to murder among old friends.
Reviews
Reviewer comments on the author's previous work:
In the course of an impressive career as a writer, Herbert Gold has demonstrated many gifts, among them his talent for making high drama of ordinary events, ordinary people. — Chicago Tribune Book World
Herbert Gold gives his stories a wry, bright air of wonder – he is a born storyteller. — New York Times
One of the most gifted writers in America. — Detroit News
Books by Herbert Gold
Novels
Birth of a Hero
The Prospect Before Us
The Man Who Was Not With It
The Optimist
Therefore Be Bold
Salt
Fathers
The Great American Jackpot
Swiftie the Magician
Waiting for Cordelia
Slave Trade
He/She
Family
True Love
Mister White Eyes
A Girl of Forty
Dreaming
She Took my Arm as if She Loved Me
Daughter Mine
Short Stories and Essays
Love & Like
The Age of Happy Problems
The Magic Will: Stories
and Essays of a Decade
Lovers and Cohorts:
Twenty-Seven Stories
Nonfiction
Biafra Goodbye
My Last Two Thousand Years
A Walk on the West Side:
California on the Brink
Travels in San Francisco
Best Nightmare on Earth:
A Life in Haiti (reissued as Haiti:
Best Nightmare on Earth)
Still Alive: A Temporary Condition
(reissued as Not Dead Yet)
Bohemia: Where Art, Angst, Love,
and Strong Coffee Meet
Herbert Gold
Herbert Gold was born in Cleveland, Ohio, in 1924 and raised in the suburb of Lakewood. After several of his poems were accepted by literary magazines, he moved to New York at age seventeen and studied philosophy at Columbia University. While there, he befriended many Beat Generation writers, including Anaïs Nin and Allen Ginsberg.
Gold won a Fulbright fellowship and moved to Paris, where he did graduate studies at the Sorbonne and worked on his first novel, Birth of a Hero, published in 1951. Since then Gold has written more than thirty books and received several awards, including the Sherwood Anderson Award for Fiction, the Commonwealth Club Gold Medal and the PEN Oakland Josephine Miles Literary Award. He has also taught at the University of California at Berkeley and at Stanford, Cornell and Harvard.
Since 1960 he has lived in San Francisco.
'A contemporary stylist and moralist' – 37 years later
Originally published in the Winter 1978 Ohioana Quarterly, Larry R. Smith's biographical essay is wonderfully prescient of Herb's recently published 20th novel, When a Psychopath Falls in Love.
Smith writes: Gold's critics have sought to reveal his talent by referring to Graham Greene, the oral style of Jack Kerouac, "Henry Miller without the sexual posturing," Sherwood Anderson, "a Whitman hipster combined with Jewish immigrant," a social recorder and deliberate stylist comparable to Gustave Flaubert, and a John Donne of Cleveland, Ohio. While analogies are often more interesting than revealing, I would describe Gold as having Saul Bellow's sincerity and skill without his heavy intentions, and as lacking the Yiddish cuteness of Bernard Malamud, but with his humor and heart. He is a chronicler of America's life styles and motivations on a par with John Updike as a contemporary stylist and moralist. Read more
'A deeply and darkly engaging tale…'
Paul Kleyman, Director of Ethnic Elders Newsbeat at New America Media, posted this review on Facebook (https://www.facebook.com/paul.kleyman/posts/10202894413759647?fref=nf):
When a Psychopath Falls in Love by Herbert Gold (Jorvik Press), despite its whimsical title, is a deeply and darkly engaging tale with characters that stay with me, their dilemma of humanity sticking in the craw, their sadness lingering like a case of low-grade indigestion grumbling way down in the urban condition.
What turns the pages to the end are the memorable, mostly well-meaning – sweet at times – people Gold has imagined in and around San Francisco's Hall of Justice. Even Ferd, the scheming lawyer, has an endearing neediness. Will he survive? Will Dan's good-guy moral sense – challenged at the start by his diagnosis of prostate cancer and his desire to leave something for his newly discovered daughter and severely disabled grandbaby – prevail in the brutal environs of San Francisco's Tenderloin and South of Market districts?
As it happens, this reviewer knows these areas well, often passing the Hall of Justice, where I've just been summoned to appear for jury duty. I've even met a non-fictional character in Gold's novel, the very real Jerry Barrish, noted bail bondsman and metal sculptor.
More than that is Gold's rich facility for drawing readers into the foggy atmosphere and hazy personalities in this cool gray city of demented souls. There's Amanda, the daughter, whose 60s-era mother hadn't wanted to tell Dan she existed. Amanda with her developmentally disabled infant give new meaning to the loner granddad's life. There's Harvey, the taciturn homicide detective, and Petal, the hooker, who wants to set things right. And the knife that must be held low to inflict maximum harm.
The ending is deeply disturbing, which my glib journalistic self might call "No Country of Everyman." And the unanswered questions around the sickening denouement are exactly what sustains and raises so many more about the seething undercurrent of deception and violence I sense on the No. 19 bus, passing by that forbidding gray block about which Lenny Bruce once said, "The only justice in the Hall of Justice is the justice you'll find in the hall."
I'd mentioned to friends that the book was released this spring coinciding with Gold's 91st birthday. It's his 20th novel and 32nd book. One friend surprised me by asking whether Gold, you know, "still has it." Oh, yes. Just read When a Psychopath Falls in Love for a genuine and sustaining introduction to the gritty heart of San Francisco. I didn't criticize my friend for this whiff of ageism, but in Gold's case, age – his mature vision about murky human motivations – is clearly an asset.
The Hometown Boy Returns
One of the heroes returning to his home town of Lakewood, Ohio, in May was Herbert Gold, whose 20th novel is just out (in hardback, paperback and eBook). That's our hero Herb on the left, next to Gilgamesh of Uruk and Batman.
Check out the listing in the local library's spring/summer program guide.
'Elder Statesman of the Beat Generation'
Julian Guthrie, April 18, 2014
San Francisco writer and author Herb Gold, deemed an "elder statesman of the Beat Generation," turned 90 on March 9 and celebrated with his kids and grandkids. Read More…
Herbert Gold: How I Failed to Meet Hemingway
ESSAY
Herbert Gold, Special to The Chronicle, January 2, 2011
In Havana, 1959, I was camped out at the Ambos Mundos Hotel, trying to write a film script based on my novel "The Man Who Was Not With It." I had driven my beat-up, badly used Ford (transportation for the poverty-stricken recently divorced) to Key West and then flown to Cuba by Q Airlines (slogan: "Ten Minutes, Ten Dollars"). Read More…
Nothing Ever Finished
By Joseph Berger
August 29, 2008
Toward the end of this reflection on his own aging and what he calls "the encroaching inevitable," Herbert Gold, a novelist who has turned out a book every few years for more than half a century, says that writers never stop writing, are "always on the lookout for the next book." Read More…
Ohio Reading Road Trip
[at age 17, Herb Gold] traveled to New York and went to a party given by an editor and attended only by other poets. That night, he met poet and author Anaïs Nin, who softly asked him to come with her to her houseboat in Hoboken. He agreed and followed her out of the party. "I was ready for whatever came next," he remembers. Read More…
Vladimir Nabokov: The Art of Fiction No. 40
Paris Review No. 41, Summer-Fall 1967
Interview by Herbert Gold
Vladimir Nabokov lives with his wife Véra in the Montreux Palace Hotel in Montreux, Switzerland, a resort city on Lake Geneva which was a favorite of Russian aristocrats of the last century. Read More…