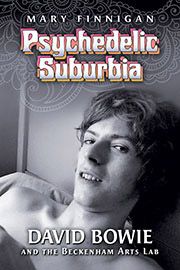 David Bowie and the
Beckenham Arts Lab
David Bowie was 22 years old and still living with his parents in southeast London when, quite by chance, he met Mary Finnigan while visiting her upstairs neighbours in nearby Beckenham. Still an unrecognised talent haunting the London folk clubs, desperately seeking paid gigs, he couldn't even dream of a future as a global rock phenomenon.
Life started to take interesting turns after he moved in with Mary and her two children in the spring of 1969. With a small group of psychedelic pioneers, they launched the Beckenham Arts Lab in a local pub and organized a free music festival in the town's park.
That summer his first hit, Space Oddity, made it into the charts and became the theme song for the first moon landing. He was suddenly on a trajectory towards superstardom.
Millions of words have been written about Bowie's life, but his early days as a struggling songwriter and performer have been shrouded in hearsay. Here is the full story of his pivotal year in Beckenham, written before his death by his friend, lover and landlady, one of the first people to encourage and support him.
For this expanded first edition, the author has added an epilogue on the aftermath of Bowie's death two days after the book was first published. New images include two previously unpublished photos of his Beckenham days.
Mary Finnigan
Mary Finnigan was born in Manchester, England just before the start of World War II. Marrying an older man at eighteen, she produced two children before bolting to London, where she landed a job as a fashion writer on the Daily Mirror. Her print journalism career included feature writing at the Daily Sketch, Daily Express and freelance work at the Sunday Times.
During a five-year holiday from the five-day week she met David Bowie. This book tells the story of their adventures together in Beckenham.
Returning to journalism, she worked as a reporter, editor and producer at Visnews, Independent Radio News and the London Broadcasting Company. She now contributes to national newspapers, online publications and BBC radio.
Mary lives in Bristol in the west of England with her partner, Chris Gilchrist. She has three adult offspring and three granddaughters.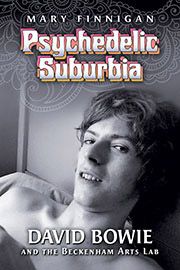 "It would be a pity if anyone avoided Psychedelic Suburbia by wrongly dismissing it as one of those inevitable 'cash in' publications which have followed David Bowie's shock death in January."
Craig Fleming Lancashire Evening Post.
Presumably no one was more surprised by Bowie's passing than author Mary Finnigan herself because this book, the one she had been intending to write for decades instead of simply being interviewed for others, was actually published before that crucial date in January. Two days before, to be precise.
Read review
"Psychedelic Suburbia for me delivers more than most of [Bowie's] music ever will and is an honest and moving testament to and evocation of a time that will never come around again."
Nigel Cross's review in the
independent music journal, Terrascope.
S**t, the timing of this book's arrival couldn't have been better, a publisher's dream, it appeared the day the world found out that its inspiration, David Bowie had passed away.
However in a weird kind of way this book is not just about Bowie – it's part autobiography, part reminiscence, part social history, almost a curate's egg in that it doesn't quite conform to any of these. Its author Mary Finnigan just happened to move to Beckenham at the time Bowie was beginning to find his feet as a serious artiste there. It's literally all in the title, Psychedelic Suburbia.
Read review
---
The UK media blitz surrounding
Psychedelic Suburbia
started in the weeks before publication with coverage ranging all the way from highbrow to lowbrow. Here's a selection of articles, starting with an edited excerpt from the book in the
Independent
:
David Bowie, the lodger from Mars:
Mary Finnigan on life with
the music star in the 1960s
Hours after meeting a penniless young man from Bromley, Mary Finnigan invited him to stay. In this extract from her new memoir, she conjures a heady time in the late 1960s when a terrestrial phenomenon on the brink of stardom moved into her home and, briefly, her bed.
This extract appeared in the January 10 Sunday Telegraph:
David Bowie: Living with Angie
is like living with a blow torch
In April 1969, Mary Finnigan was in her garden in the London suburb of Beckenham when she struck up a conversation with a man playing a guitar through the open window of a flat next door. That man, a 22-year-old David Bowie, who had dropped round to see a friend, was still living at home and leapt at Mary's offer to move in as her lodger. They soon became lovers.
The Sunday Express ran this the same day:
Review: New book tells the story of
David Bowie's relationships before Angie
MARY FINNIGAN's Bristol home is warm and welcoming. Exotic rugs on the walls, a Buddhist prayer room, tea served in funky mugs decorated with a David Hockney landscape from one of his latest shows.
BBC Radio 4 ran an interview with Mary for the Today show four days before publication. The segment was also rebroadcast on National Public Radio in the US.
Mary Finnigan's Psychedelic Suburbia Interview Radio 4 Today Show
Here's a YouTube link
BBC Television interviewed Mary on a walk around Beckenham, the South London suburb where Bowie found his launch pad.
The Beckenham beginnings of David Bowie
Then on January 11, news broke of David Bowie's death in New York. Press coverage was cranked up to a new level. Mary wrote this tribute to her old friend in the Independent:
David Bowie: 'He would regard
death as a fresh challenge'
The message contained in his last album is obvious to all
who knew him personally and to everyone who loved him
Another article from the Independent about Bowie's roots – and a link with Moscow:
David Bowie: How the singer retained affection
for the suburb where his career started
'He had plenty of room for sentiment – he didn't forget where he came from'