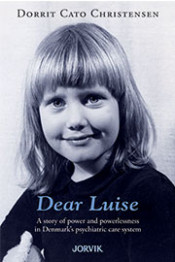 A story of power and powerlessness in Denmark's psychiatric care system
Introduction by Poul Nyrup Rasmussen
Translated by Peter Stansill
An unintended event. This was the bland phrase used to describe Luise's sudden death in the psychiatric ward at Amager Hospital in Copenhagen, Denmark. She was 32. Dear Luise is a mother's deeply personal account of her struggle to ensure her daughter's survival through 20 years of treatment in the Danish mental health system. It is an alarming – and thoroughly documented – exposé of the abject failure of the medication-based treatment regimen routinely imposed on vulnerable psychiatric patients. This book is also a poignant tale of love and hope, brimming with tender memories of the creativity, originality and wry humor of a very capable, intelligent young woman.
Behind Luise's ultimate fate we see the smug certainty of mental health professionals, both doctors and caregivers, and the concomitant dehumanization of their patients through indifference, harassment, coercion and the use of force. In this tragic case, the mother's investigation also reveals a shocking trail of incompetence and dishonesty – repeated misdiagnosis, professional collusion, "missing" official records, falsified hospital charts, victim-blaming, and a complete lack of accountability.
Her mother's ill-fated trust in Denmark's healthcare system led an 11-year-old girl with misunderstood adjustment problems into a doctor-mandated drug hell. First she was wrongly diagnosed and dosed with powerful anti-epilepsy medicine. Then the severe side-effects were treated with antipsychotics that caused even more serious adverse reactions, both mental and physical. Complaints from mother and daughter ran into a stone wall, and all meaningful dialogue was cut short. The system had only one response – increase the medication.
Luise's tragedy is far from unique in Denmark – or indeed any other "advanced" industrialized country. Towards the end of her life she knew what was happening to her. Luise told her mother: On my gravestone I want it to say that it was the medicine that killed me.
Dorrit Cato Christensen
Dorrit Cato Christensen is a retired teacher living in Copenhagen, Denmark, who devotes her time to advocating for better treatment of the mentally ill. She is president of Død i Psykiatrien (Death in Psychiatric Care), a Danish support organization for families and friends of patients who have died from overmedication and for those concerned for the well-being of loved ones undergoing medication-based psychiatric treatment. She is also active in several pan-European organizations with similar goals, including the European Union's Agency for Fundamental Rights.
Psychiatric care in Denmark linked to
"a severely increased risk of dying."
University of Copenhagen researchers led a nationwide study in Denmark comparing individuals who died from suicide to matched controls between the years 1996 and 2009. Essentially, the researchers found that increasing levels of psychiatric care are associated with "a severely increased risk of dying." They concluded, "The public health significance of this finding may be considerable." You would think the press and public would be outraged. The study was totally ignored.
The researchers found that taking psychiatric medications during the previous year made a person 5.8 times more likely to have killed themselves. If a person had made contact with a psychiatric outpatient clinic, they were 8.2 times more likely to have killed themselves. Visiting a psychiatric emergency room was linked to a 27.9 times greater likelihood of committing suicide. And if someone had actually been admitted to a psychiatric hospital, they were 44.3 times more likely to have committed suicide within the year.
Read more
A former Prime Minister's take
on Denmark's mental health crisis
The foreword to both the Danish and English editions of Dorrit Cato Christensen's Dear Luise is by Poul Nyrup Rasmussen, former Prime Minister of Denmark and Member of the European Parliament, who now devotes his time to improving conditions in his country for mental patients and their families. Like many Western countries, Denmark has long been stuck with a caregiver culture of "negative expectations and prejudices about the mentally vulnerable," not to mention the routine practice of dangerous overmedication with psychotropic drugs. Conditions are slowly improving – there's even talk of a paradigm shift – but it's still too late for Luise and hundreds of others.
Read Poul Nyrup's introduction here.
"One of the most extraordinary books about healthcare ever written"
Read the review by Dr David Healy on Amazon's UK site.
Read More…
Written on Water
This synopsis of Dear Luise was recently posted on RxISK, the first free, independent website where patients, doctors, and pharmacists can research prescription drugs and easily report a drug side effect – identifying problems and possible solutions earlier than is currently happening.
Read More…
The Psychiatric Epidemic – does long-term use of medication decrease the chance of recovery?
PsykoVision in Denmark has recently translated and published Robert Whitaker's book, Anatomy of an Epidemic. In honor of this, PsykoVison invited Whitaker to speak at a small conference in Copenhagen.
This is Part 1: The Roots of the Epidemic, where Robert Whitaker guides us through the history of psychiatric medication and presents the scientific evidence that proves that the common wisdom about these drugs is mostly based on falsehoods.
Click to see Video…
In Part 2: The Scope of the Epidemic, Whitaker digs deep into the research on psychiatric medication and demonstrates how the studies paint a very different picture from public perception.
What is the reason for this discrepancy? Misinformation? Disinformation?
Click to see Video…
A mother's shocking story of her daughter's journey through the psychiatric system
20 Feb 2014
By A.E.De La Cour on Amazon.co.uk
This review is from: Dear Luise: A story of power and powerlessness in Denmark's psychiatric care system (Paperback)
"Although Luise lived in Denmark and her story concerns the Danish psychiatric system, there is much here for the English reader. It is beautifully and meticulously written."
A crucial read for patients, their families, and all mental health professionals
Two more reader reviews of Dear Luise.
Read More…
Psychiatry Gone Astray
Here's an English translation of "Psychiatry Gone Astray," an op-ed piece by Prof. Peter Gøtzsche in the Copenhagen daily Politiken that has caused quite a stir in Denmark. His book, Deadly Medicines and Organised Crime: How Big Pharma has Corrupted Healthcare, came out last year. The article is posted on the website of Dr. David Healy, a professor of Psychiatry in Wales and an internationally respected psychiatrist and psychopharmacologist. His book Pharmageddon tells how pharmaceutical companies have hijacked healthcare in America – with life-threatening results.
Read More…
'Happy pills' from Denmark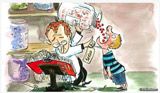 This cartoon was posted on Facebook by the Silje Benedikte Foundation, named for a young Norwegian woman who took her own life at 20 after two years of treatment with 20 different psychotropic drugs. The joke seems to be that, since a big debate is finally raging in neighboring Denmark over their health system's misuse and overuse of psychotropic medications, there's now a surplus available for export! We see a Norwegian dad emptying a mega-jar of antidepressants down his kid's throat, saying, "Just got these in from Denmark earlier today."
Facebook link
Gross medical negligence led to suicide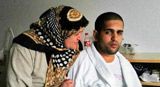 Psychiatric Hospital in Amager harshly criticized for overmedicating 26-year-old man. Clinical Manager claims that incidents involving medicine in large doses have led to 'cultural change' in psychiatric treatment Read More...
Video interview – Dorrit Cato Christensen