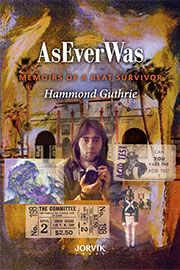 memoirs of a beat survivor
Second edition, revised
When the counterculture was busy being born in Los Angeles and San Francisco in the mid-1960s, Hammond Guthrie found himself in the midst of hipster heaven, somewhere between late Beat and early Hippie. A budding painter and writer, he quickly made friends with many of the musicians, poets, performance artists and street people who were blazing trails into new lifestyles.
Realizing that life was meant to be a total trip, a non-stop adventure, he left the West Coast with his wife for England and immersed himself in the alternative scene in London – the world of International Times, the UFO Club, Arts Lab, inner-city squats – with a writing gig at Time Out magazine.
Moving on to Amsterdam, he befriended Provos and free-living bohemians, while building a promising career in the art world – the Stedelijk Museum even bought his paintings for their collection. But in the early 1970s the trip took a surreal turn. His wife started taking free love far too literally, and her amorous escapade with a drug dealer entangled them both in a nerve-racking intrigue in the twilight zone of Tangier. Hammond's Moroccan mission was to spring five Americans, including his wife's lover, from 60-year prison sentences for wholesale hashish smuggling.
Here he tells it all in his playful style, with a keen eye for absurd detail and an unflagging sense of humor. Among the hundreds of famous and not-so-famous personalities he encountered along the way were the Buffalo Springfield, Del Close, Max Crosley, Richie Havens, Nico, Carmen McCrea, Allen Ginsberg, John "Hoppy" Hopkins, William Burroughs, Simon Vinkenoog, Kenneth Alsop, Pete Townshend, and Emmet Grogan.
Reviews
AsEverWas, along with Ed Sanders' Tales of Beatnik Glory are the two most important tomes I've seen recounting those decades of the twentieth century. — Larry Sawyer, Editor, Milk Magazine
Hammond takes you places you want to linger and others that cause you to shudder with fears you might not know you had. It was the sixties, but you haven't read this story before. — Comment on Amazon.com from a reader in Sioux Falls, South Dakota
Hammond's book may be one of the quintessential freak histories. — Michael Simmons, LA Weekly columnist
It brought back memories I've never had! — Gary Fulkerson, singer/songwriter
I laughed, I cried. It's a marvelous book written in intriguing conversational style, bringing back wonderful memories from a wonderful time. — Herbert Gold, novelist and journalist
AsEverWas captures the story of countless others who lived on the fringes during an era when the country was at an important crossroads. Anyone who was alive during these turbulent times and who gives a damn about just how we got here should read this book — John Aiello, poet and journalist
Helps you see, feel and understand the moods, people and places that shaped an extraordinary decade. For its style and its lessons, Hammond Guthrie's memoir is a rare and important achievement. — Stew Albert, co-founder of the Yippies
I'm blown away by the stories – [he] really [has] seen and done it all. Just fascinating and, unlike so many of the other accounts I've seen, [Hammond] actually does remember. — Jeff Tamarkin, author of Got a Revolution
What a marvelous surprise lurking beneath the cover of this one. — Jacket Magazine
Hammond Guthrie
Hammond Guthrie published three volumes of poetry and illustrated writings, edited Ginger Snaps magazine, and contributed articles, poems and illustrations to print and web-based journals, including Earth Magazine, Time Out (London), Exquisite Corpse, Big Bridge, NIGHT magazine, Anderson Valley Advertiser, Counterpunch, Jack Magazine and SoMa Literary Review. His artwork was represented by the Vorpal Gallery in San Francisco. Hammond died aged 71 at his home in Portland, Oregon on October 1, 2019, with Margaret, his wife of 25 years, at his side.
'…A journey through the fun house of mirrors and tunnels of love'
Mary Jo Malo wrote a wonderfully intimate and comprehensive review of AsEverWas in Big Bridge #12. She also mentions "the publisher's failure to properly edit" the original hardback edition. That's why you need the new paperback or eBook, lovingly revised and thoroughly edited, fact-checked and re-indexed.
Read the full review.
A (Fore)word from Hoppy
Introduction to AsEverWas by John "Hoppy" Hopkins
John "Hoppy" Hopkins, who died in London January 30, 2015, was a great friend of Jorvik Press. Here's the introduction he wrote for AsEverWas: memoirs of a beat survivor by Hammond Guthrie, who also lost a dear friend. Jorvik's revised and edited second edition of this memoir supersedes the original 2002 hardback version, now out of print.
Read more…
'A fascinating tale of Beat/Hippie life'
Review of the first edition by Skip Stone
"In his memoir, AsEverWas, Guthrie reveals a fascinating tale of Beat/Hippie life including free love, drugs, smugglers and the incredibly creative art milieu of the period. His encounters with the legends from that period are some of the highlights of the book. His reflections and insights into his own life are deep and meaningful, reflecting the prevailing anomie many of us felt during that period of social change."
Read more…
Carmen McRae in the Rain
This excerpt from Hammond's book was published on the official Carmen McRae website:
Back in the City, I was just ahead of an impending storm front, sidewalk down on the lower end of Polk Street, making for the warmth of our third floor walk-up, when a torn scrap of paper scotch taped inside the window of a dingy little bar caught my attention. Curious, I walked over to read the note. The joint was completely dark inside and pad-locked tight, but the childish pencil scrawl read: "10 p.m.- Carmen McRae." I laughed as rain began to fall, thinking how improbable a performance that would be, and made for home. But I couldn't get Carmen's voice out of my head.
Read more…
The Funniest One in the Room
One of Hammond Guthrie's close friends was Del Close, the guru of improv, about whom stories abound in AsEverWas . Here's a link to a Google Books excerpt from The Funniest One in the Room: The Lives and Legends of Del Close by Kim Howard Johnson, featuring Hammond and Del's adventures on the San Francisco Muni. The book blurb reads in part: "Nichols and May. John Belushi. Bill Murray. Chris Farley. Tina Fey. Mike Myers. Stephen Colbert. For nearly a half century, Del Close – co-creator of the Harold, director for the Second City, San Francisco's The Committee, and the ImprovOlympic, and 'house metaphysician' for Saturday Night Live – influenced improvisational theater's greatest comedic talents."
Click here to read excerpt.
From the hip…
Recent Facebook comment by AC Smith:
"Because I'm in the process of reading Hammond Guthrie's absolutely delightful autobiography (the guy was the Zelig – or Forest Gump, for you youngsters – of hip; he made every scene worth making from the mid-60s on) and because I just finished his stories about encountering Del Close during his Committee days in San Francisco, I am compelled by Forces of Nature beyond my control to seek out and post clips from Del Close & John Brent's amazing How to Speak Hip LP. Enjoy."
Click here for YouTube video How to Speak Hip LP.
Video: The Art of Hammond Guthrie - By Sam & Martin
Interview
Traveler, musician, painter & author Hammond Guthrie talks about the experiences of life and his friends – Michalis Limnios BLUES @ GREECE